Oh, for the love of...
So, in TermiSoc tradition, a contest was waged:
So...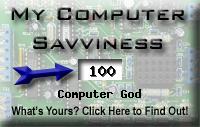 and

To be honest, this probably conludes that these two tests are a load of crap.
hmm... though I am the President of the University's Computing Society, who spent a lot of time thinking of new ways to make us sound less geeky and nerdy....
/me buys slide rule and lab coat.